» University of La Verne Scholarship Notice (82 Views)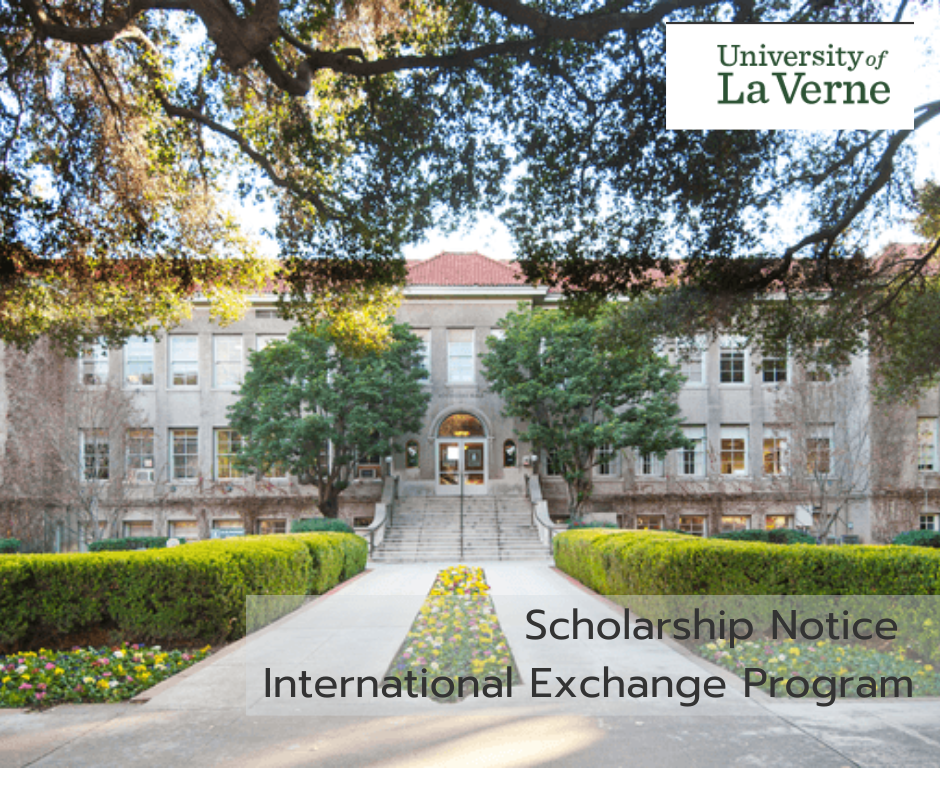 University of La Verne Scholarship Notice
The application is now open for the Exchange programs that will be held at University of La Verne, California.
ULV, is one of the most traditional and respected American Universities. Founded in 1891, it's a non-profit, private institution, associated to a foundation that supports education for students from emerging countries. Its faculty is composed by PhDs with great academic experience. ULV is also part of America's Best Colleges list and is recognized as one of America's Top Colleges by Forbes magazine.
For 3 weeks, along with classes at the ULV campus, the students improve their English skills, learn from global companies on private business visits and gain experience to advance rapidly in their career.
Field of exchange: Business Strategy, Financial Decisions, Marketing Management, Project Management, Public Administration, Leading & Coaching and Business English for Undergraduate and Postgraduate Students.
Advanced Topics in Business Strategy

Advanced Topics in Financial Decisions and Corporate Policy

Advanced Topics in Marketing Management

Advanced Topics in Project Management

Contemporary Topics in Public Administration

Finance & Accounting

Leading & Coaching the Human Organization

Strategy & Marketing

Business English
Summary
Benefit: 70% of the full tuition

Host institution: University of La Verne

Exchange period: 3 weeks

Intake: Winter 2024
Registration Period: May 09th to May 28th
Eligibility Criteria
Being 18 years old.

Having successfully completed the 4th semester of undergraduate degree or currently a postgraduate student for the Advanced programs.

Having at least an intermediate level of proficiency in English.
Steps of the process
Complete the online

Application.

Applications will be accepted starting May 09th.

In the online application, you will be asked to briefly describe the reason you are applying for this scholarship and describe how the program will help you attain your personal and/or professional goals.

Delivery of final documentation by the selected candidates in this selection process.

Scholarship recipients will be notified individually after 10 days.
For more information please contact here
Poster : พราวแสง ภูสิงหา [Ms. Prowsaeng Poosinghar] | 16 พฤษภาคม 66